Worship & Ministry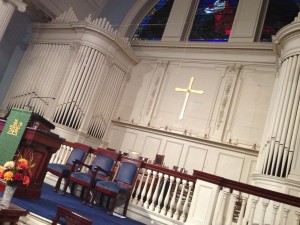 Worship is at the heart of what we do at First United Methodist Church. We offer one weekly worship services on Sunday mornings at 10am. In addition, we broadcast the sanctuary service on Melrose's community television station, MMTV.
There are plenty opportunities to get involved in FUMC's worship ministries. Love music? Consider joining the Sanctuary Choir. If you're gifted in the realm of technology, you can volunteer to work the sound board, run the PowerPoint sides, or even film for the Television Ministry. You can also to serve as a greeter, usher, or liturgist. Just contact the church office to learn more about how you can get involved!
Worship in July
*** All Services are at 10am***
July 2 10am: "All or Nothing" Genesis 22:1-14. Perhaps the most horrifying story of the bible – God asks Abraham to sacrifice Isaac, his young son. What can this story possibly have to have offer us today? What kind of commitment does god really expect??
Summer Union Services July 2017
*** All Services are at 10am***
July 9, 10 am  Rev. Dominic Taranowski preaches at First United Methodist Church
July 16, 10 am  Rev. Stacey Lanier preaches at First Congregational Church,  21 W Foster St, Melrose, MA 02176    Stacey will be preaching on Genesis 25:19-34: "Sibling Rivalry" – Jacob and Esau: a study in sibling rivalry that includes decep on, violence, dishonesty and fear. How do we live together in our own families that are less than perfect?
July 23, 10 am  Rev. Michael Woolf preaches at Highlands Congregational Church, 355 Franklin St, Melrose, MA 02176
July 30, 10 am Rev. Beth Horne preaches at Green St. Baptist, 179 Green St, Melrose, MA 02176
August Services @ FUMC 
*** All Services are at 10am***
August 6: Genesis 25:19-34: Jacob's mys cal dream leads us to wonder how God communicates with each of us.
In August, the focus will be on "Faith and Film," and we'll look at our faith through the lens of several popular movies: "Hidden Figures," (August 13) "Arrival," (August 20) and "Zootopia" (August 27). Bonus! The theme for September 3 hasn't been set. Send Stacey your suggestions of a movie along with a scripture passage that relates to a theme in the movie. She'll chose one of your suggestions.
SaveSave
SaveSave
SaveSave